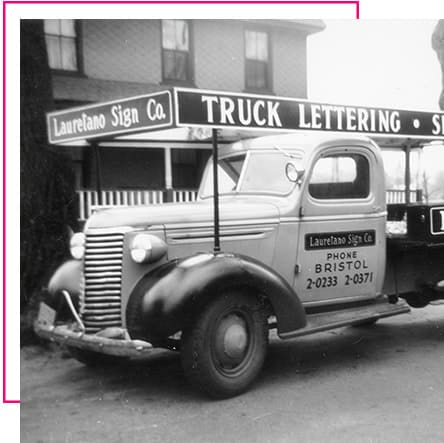 Lauretano Sign Group is a full-service sign company that fabricates and installs sign projects throughout the world with its proven network of sign partners.
With over 75 years in the business, we understand the importance of project management and quality. We were founded on the basis of quality customer service, attention to detail and family values.​
Mickey Lauretano started business as a tailor. He ordered a sign for his storefront that was a large brown shoe. Never really satisfied with its look he decided to paint his own and as word caught on, he was painting signs for all of town.
Fast forward, Lauretano Sign Group maintains manufacturing plants strategically located on multiple continents with service techs globally. We ensure coverage on a timely basis wherever you are located. From project assessment and outlining, to design, building, and installation, Lauretano Sign Group can meet all your signage needs and more.
From our first project to now, the best part about completing any project is always the feeling of excitement from our customers. We love seeing their faces as they watch their signs illuminated for the first time. That "seeing your name in lights" never gets old and makes it all worth the while.
At Lauretano Sign Group, our mission is to meet and exceed customer needs and expectations for signage products and services. We partner with our customers in developing and executing their identification and branding strategies locally, nationally, and internationally. We provide proactive service and support through professional and dedicated personnel and maintain a state-of-the-art facility that employs the most current technological concepts and manufacturing processes in the signage industry.